Case Study
Nine Grocery Distribution Warehouses Initiate PowerLift® Training
Summary
A national brand, retail grocery chain has had a long term relationship with PowerLift® Training, using it for the past eight years in their distribution centers throughout the U.S. The company recognized the need to control their material handling sprain/strain injuries and incident rate so they contacted PowerLift® Training who has a long history training for distribution facilities. PowerLift® Train-the-Trainer was implemented in all nine, union run distribution facilities and all order selectors were consequently trained in using PowerLift® technique for their order selection tasks. One and one half years after initiation of PowerLift® along with a renewed emphasis placed on material handling safety among the selectors the results were tallied. The results were calculated as a 70% decrease in the incidence of material handling sprain/strain injuries and a 90% decrease in incurred work comp costs.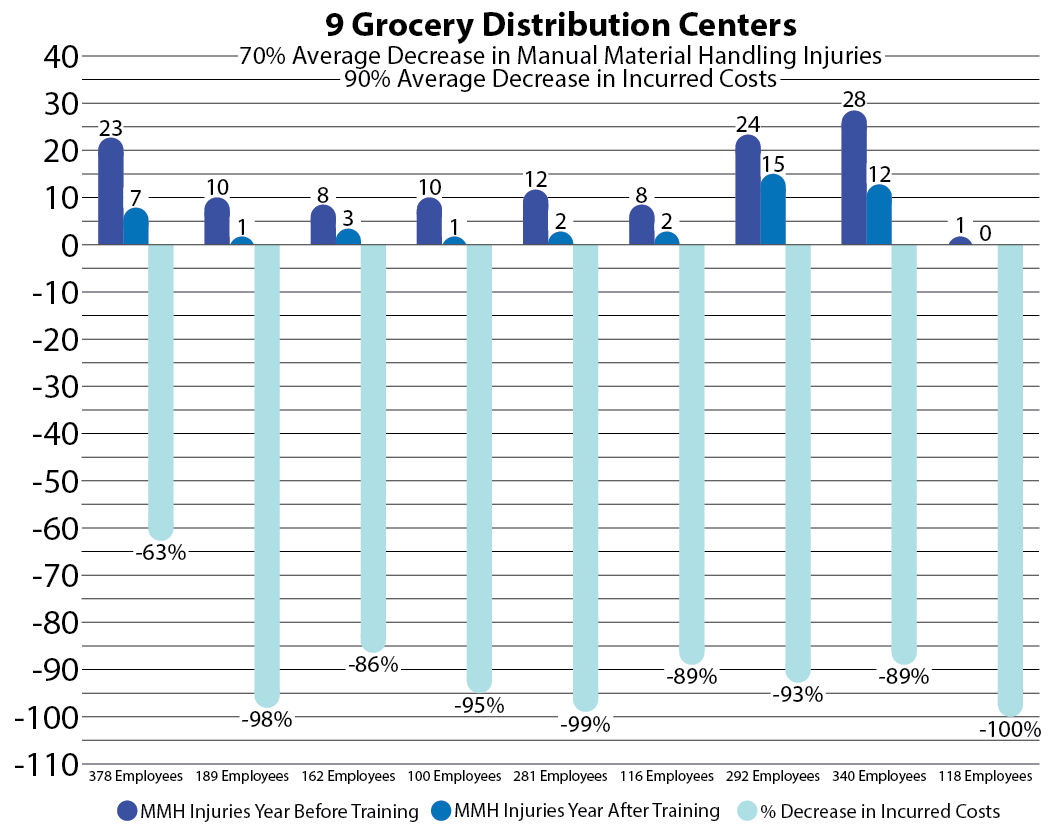 Method
The goal of the Train-the-Trainer was to train a core group of employees in the application of PowerLift® technique as used in order selection tasks, here after known as the PowerLift® Team and explicit instruction in how to train PowerLift® to the employee population. Training of the PowerLift® Team consumed an 8 hour day and was composed of 4 hours classroom study and 4 hours of hands-on application study on the production floor. In addition, the team was introduced to a library of Safety Talks illustrating the use of the technique in various pick/slot locations. They were also supplied with a Safety Talk video showing twenty five, three to five minute instructional explanations of how to use PowerLift® at the many types of pick slots.
One to two team members held classroom sessions that were composed of five to ten order selectors who were introduced to five different PowerLift® techniques of lifting, pushing and pulling. Following the classroom instruction the selectors were taken to the production floor for hands-on practice at the pick slots. The initial reaction of the selectors was that the techniques shown would take too much time to accomplish and that they would not be able to keep up with their pick rate. In fact, it was found out as they became more proficient with the tasks, that the pick rate was not affected at all and resulted in less fatigue because of the inherent efficiency of the technique.
The company also renewed its effort at making safety a much more important part of the job with PowerLift® at its core. Safety awareness continues to be a priority and is supported by weekly Safety Talk presentations, observation of employee work practices and the immediate training of new employees in the PowerLift® techniques of order selection.