PowerLift and Levigait
have come together to create a safe lifting program for Fire and EMS
Levigait has created a Patient Lifting System built and designed for lifting patients safely from the ground. The founder and creator is Mike Philips, a firefighter for nearly 20 years. Paired with the PowerLift safe lifting techniques the Levigait People Mover can save departments from career ending injuries.
DID YOU KNOW?
EMT's suffer 10.3 injuries per 100 full-time employees (nearly 3x national average) – Dept of Interior

Back injuries are the #1 career ending injury in EMS.

50% of EMS caregivers will have a back injury during their career.

50 percent of IAFF early retirements are due to back injuries.

Average workers comp back injury claim costs between $40,000- $80,000 per occurrence.

Healthcare ONLY back injury costs (direct and indirect) are estimated @ $20 Billion /year. -OSHA.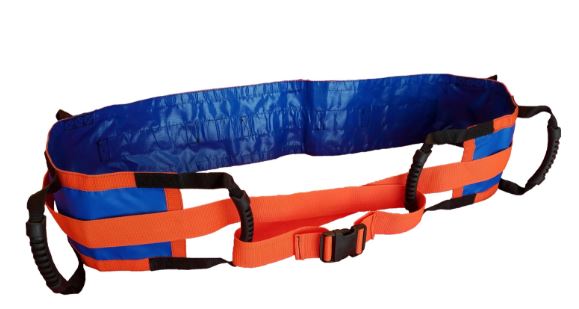 Levigait People Mover Bariatric Belt
Fits up to 100 " waist size
7″ Wide Belt – Larger Than Standard Belts
9 Handles For Convenient Lifting & Optimal Lifting Form
Greater Control While Lifting
Fewer Injuries To Patient, Emergency Responders & Caregivers
Patient DOES NOT need to be lifted to use the device
Minimizes pressure points and skin tears
Waterproof For Easy Cleaning
Superior Patient/Movement Control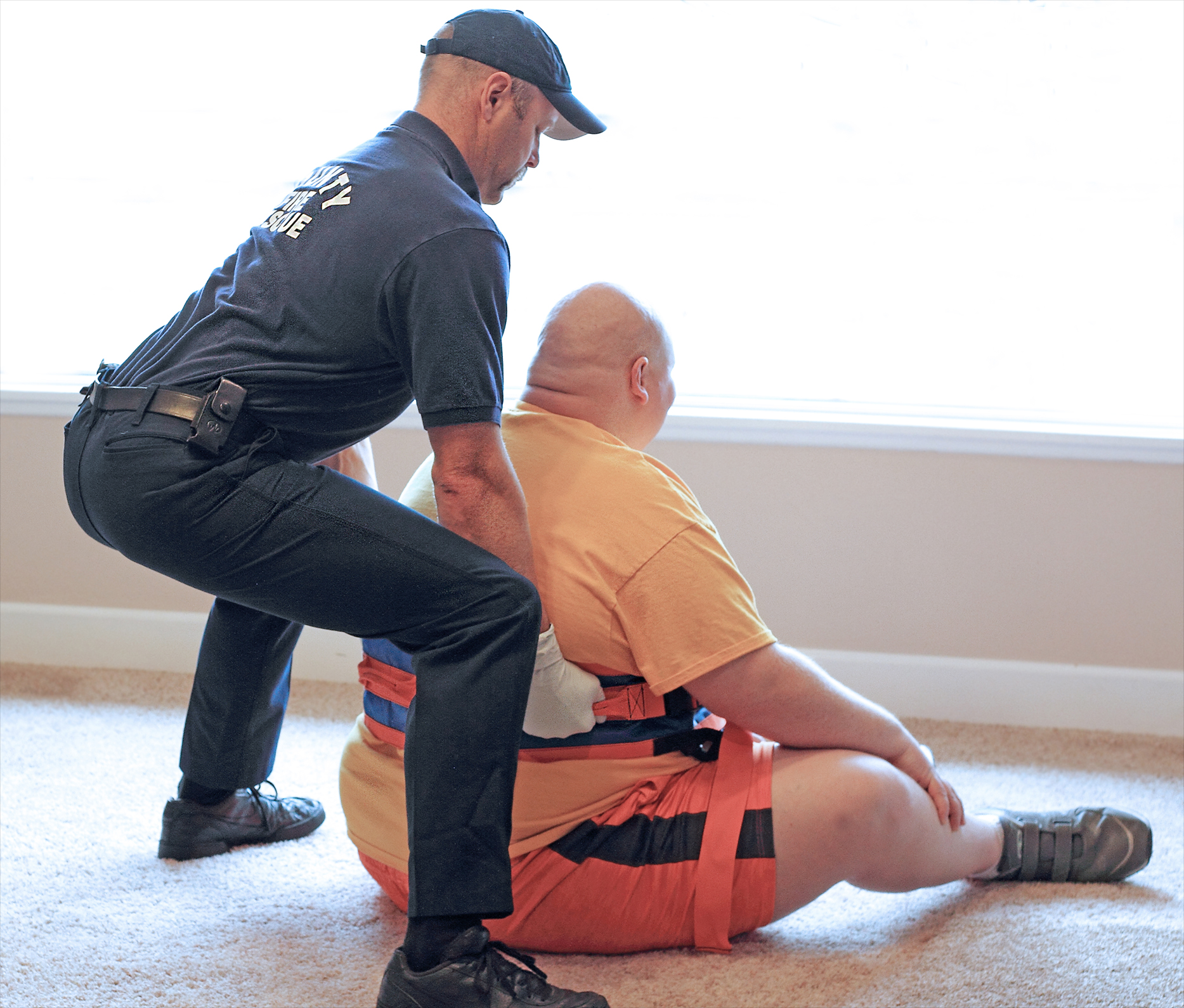 The proper PowerLift technique with the Levigait People Mover
"This is our go to device for people who need help up off the floor and it truly is a back saver for us.  I've used this on patients who are in the bathtub, on the floor or stuck on the toilet, all with great results."– Joey S. (Senior Firefighter/ Paramedic)
We have been using the "People Mover" strap by Levigait; It's part of our first out medical gear kit. I like it because it causes less strain to the patient, less wear and tear on my back, and it's easy to clean. We won't start a shift without one.
Dave A.- Paramedic Firefighter 
"As a firefighter and Peer Fitness Trainer for my fire department, I've found that the People Mover allows me and other firefighters the ability to lift with better technique and more comfortable for the person being lifted." (-Todd C. Senior Firefighter, Paramedic, Peer Fitness Trainer)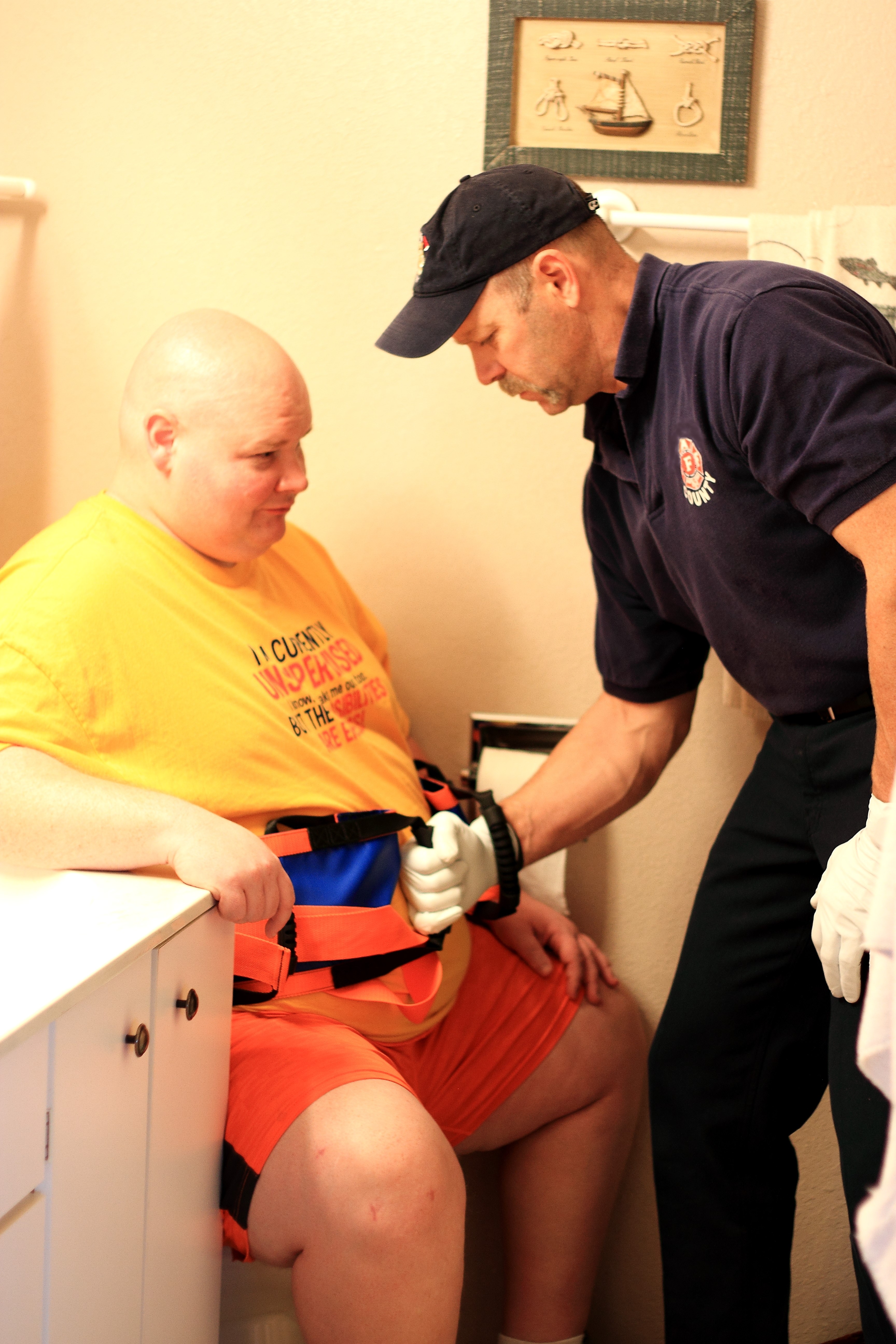 One armed lift with the Levigait People Mover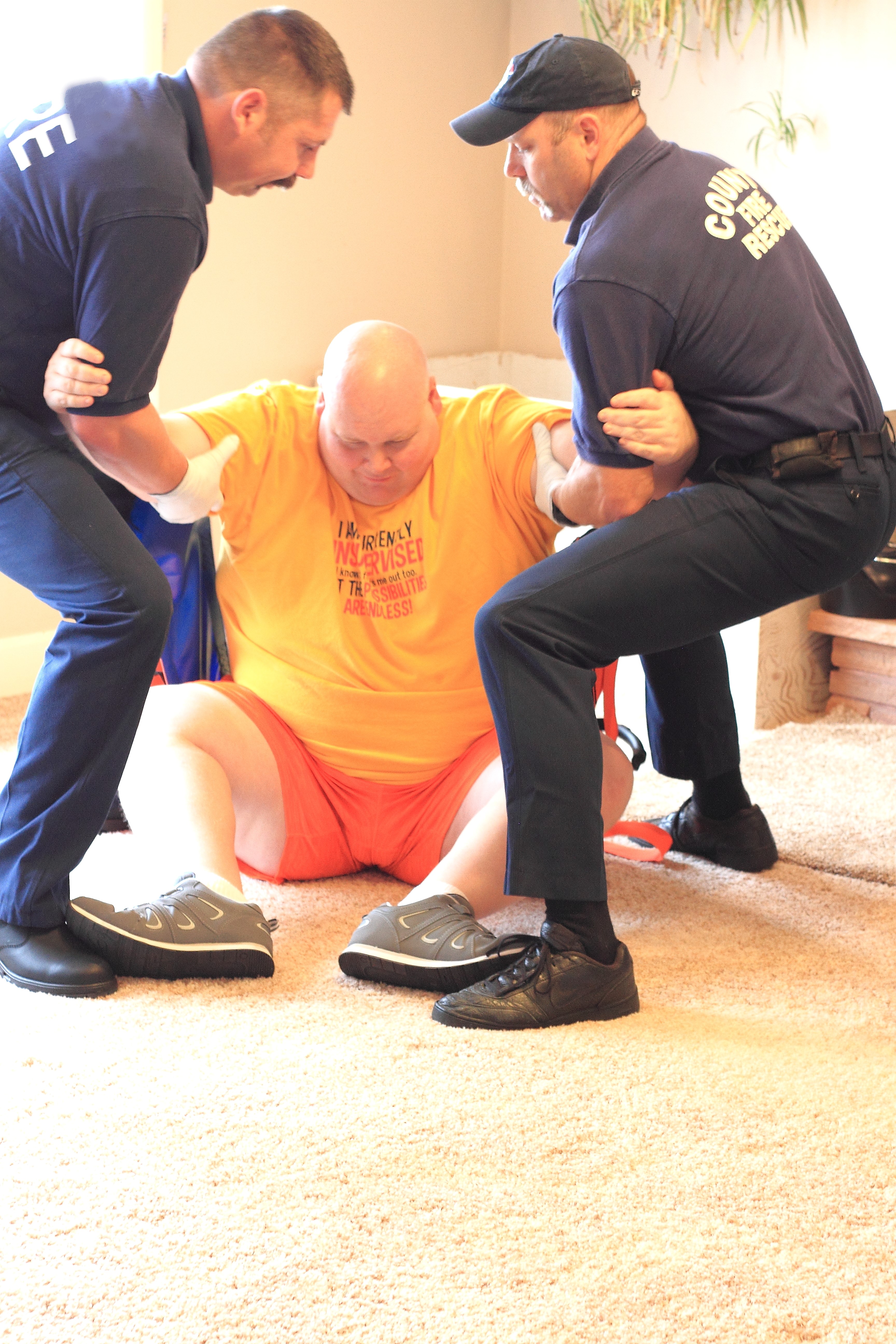 2-person lift with Levigait People Mover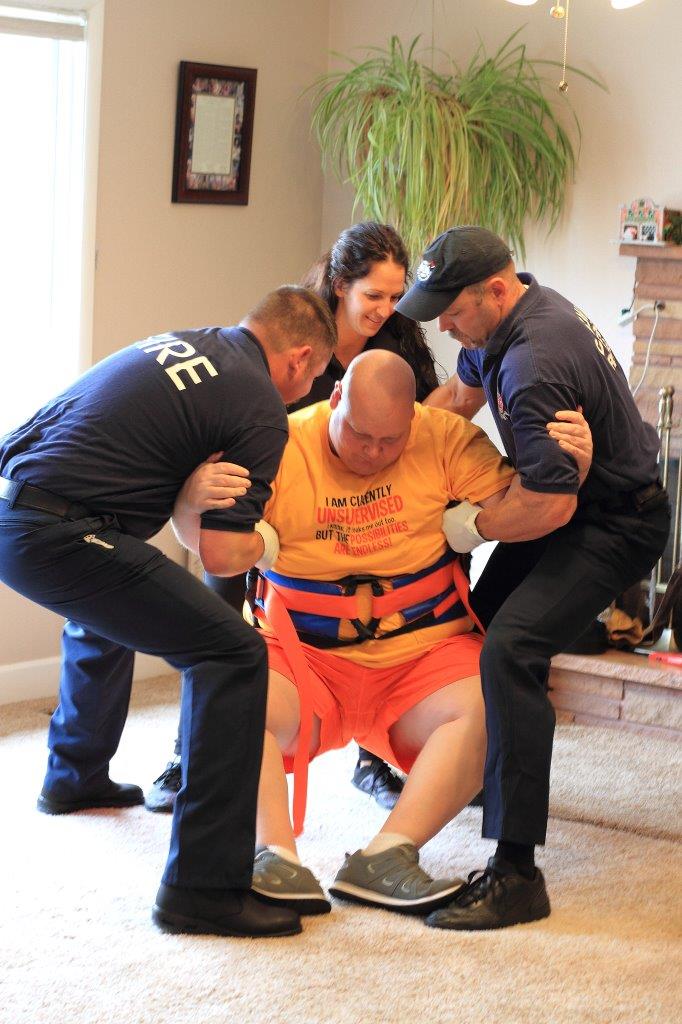 3-person lift with Levigait People Mover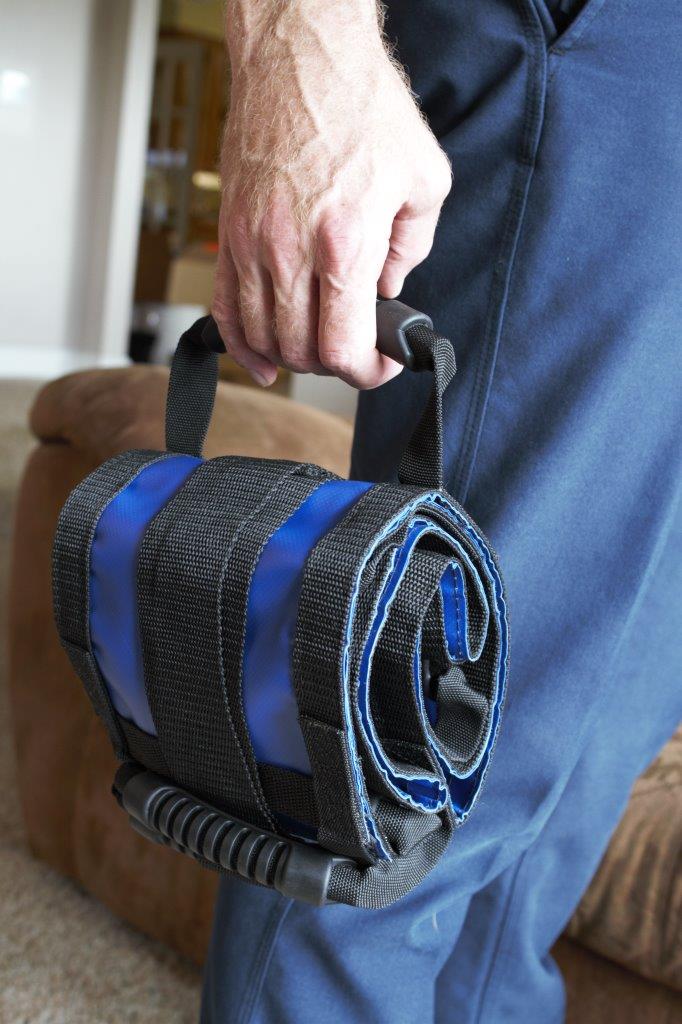 The People Mover is compact and easy to store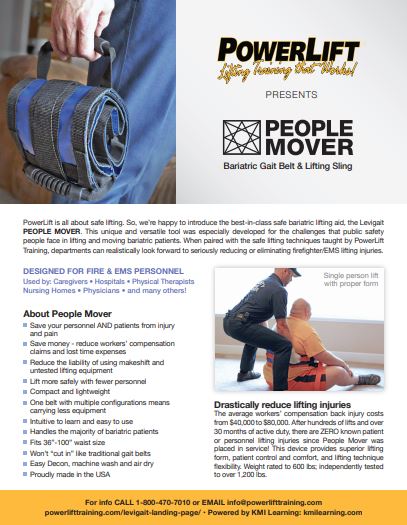 Check Out the
PowerLift/Levigait Brochure
Learn more about how PowerLift Safety Training and the Levigait People Mover will help your department reduce strain and sprain injuries today!
One of the biggest risks that my peers and I face, every day, as First Responders and Emergency Personnel is the risk of back injuries caused by lifting patients. 
Following one especially challenging situation (watch video), Michael decided that both he and his peers needed a superior solution for lifting large patients. 
Back-injury affects more than one person. There is an immediate financial impact to his or her family, the community, and the organization. 
PEOPLE MOVER BENEFITS
Maximum Convenience & Flexibility For Emergency Responders,
Healthcare Providers, Physical Therapists, and Family Caregivers
Get Your People Mover Today!
Injuries while lifting on the job come without any warning. Departments need to be proactive in ensuring the safety of the brave men and woman that serve their communities day in and out. Don't wait! Buy the Levigait People Mover today!
Contact us Today to Learn More
Fill out the form and one of our representatives will be with you shortly.