PowerLift® adds Wearable Tech!
PowerLift®is now a licensed distributor of the groundbreaking Modjoul SmartBelt.The SmartBelt is a workplace wearable designed to keep employees safe. The sensors in the SmartBelt collect various data from the user to determine their safety while on the job. By collecting data such as location, motion, and environment, companies can have a comprehensive view of how their employees operate and in what conditions. 
PowerLift® Can Save Your Company Money and Your People Pain
Tried and proven material handling training for your entire employee population. Our unique training styles are built to seamlessly integrate into your company's safety culture or help build you a new one. PowerLift training is so vertical that it will fit into virtually all work environments. Proper lifting training can save your company from unnecessary injuries and the costs that follow.
Training that Goes Beyond The Classroom into the Job Site
PowerLift
 training isn't the "one and done" classroom training that we've all sat through and almost never use. After a classroom and on-site training, we give your company access to the full PowerLift Library for continued training at your facilities. These include over 1,200 Safety Talks for safety briefings, training materials, Safety Talk videos, and much more. Learn how safe material handling training can help your business today.
PowerLift®  Intro to Material Handling Safety Training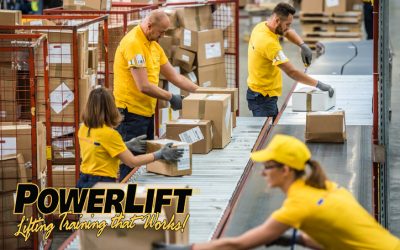 When considering workplace safety, it is vitally...
180 people went through the program … not one negative response. I couldn't believe all the people coming up to me with positive things to say
The most impressive number associated with injuries has come from an $80,000 refund from our worker's comp group in the form of a really easy to receive check.
It's easy to learn … not a complicated program. You can demonstrate in the training the difference between proper lifting and improper lifting … you can actually feel it.
People can't believe the difference it makes using the PowerLift® [lifting] technique versus what they were using before. It just feels a lot easier
Proven
We've trained over 400,000 workers in over 800 companies over the last three decades. The result has been the establishment of a safety culture based on PowerLift® that has resulted in a decrease and near elimination of material handling injuries in many industries across America.
Unique
We train a technique that actually works in real life. It uses a wide stance, commonly used by weight lifters as opposed to the traditional 'squat lift' that is generally taught in industry.
Practical
Unlike most training that addresses all the ancillary safety issues but avoids the actual instruction of 'how to do it' we focus on applying our technique to each individual task that workers encounter.
Adaptable
We have developed over 1,200 one-page safety talks that our clients use every week to keep these backsaving techniques top-of-mind. They are customized to individual industries and even include safety talks for the home and garden.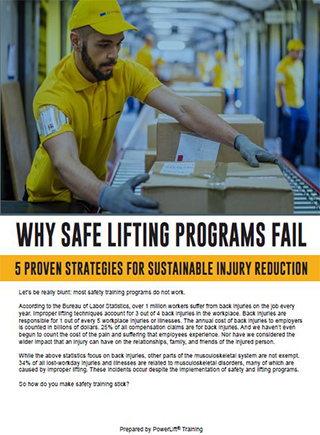 Take A Look At the New PowerLift White Paper
Read our white paper 'Why Safe Lifting Programs Fail' to learn these 5 proven strategies for sustainable injury reduction.
Safe Lifting Training and Tools for Fire and EMS
Learn more about how PowerLift Safety Training and the Levigait People Mover will help your department reduce strain and sprain injuries today!