Covid-19 Is Not Going Away
That's the bad news. And together with that bad news, the facts are that Covid-19 is a very contagious illness, with some very nasty properties. In a tiny nutshell:
The US leads the world in both the number of Coronavirus cases, and in Coronavirus-related deaths. 

Coronavirus can be spread rapidly through airborne particles and is highly infectious.

A person infected with Covid-19 may not actually have symptoms, but they can still spread the illness.

A person infected with Covid-19 is likely to infect a little over 2 other people on the average. Those 2 people will infect another 2 people

each

. And those 4 people will infect another 2 people each, etc. 

A person who has contracted the illness can become infectious within 2 days of exposure. Symptoms may not show up for another 7 days, during which time, they are contagious. In other words, for 9 consecutive days, the infected person may be spreading the disease without even knowing they're sick.
The Light in the Darkness.
Science and medicine are working at a rapid pace to combat Covid-19 and limit its spread. Although no vaccines are available commercially as yet, medical research is moving quickly to create one. And even in the face of false claims and misinformation, experts and authorities in the medical and science communities authorities, such as the CDC and WHO, publish science-based guidelines and update those guidelines regularly as facts become available, providing more reliable information. The most current guidelines are simple: 
Wash hands properly and frequently. 

Avoid crowded areas if possible.

Wear a mask to prevent spreading Covid-19 to others, even if you don't have symptoms.

Consciously maintain a 6 foot (or 2 meter) distance between you and other people.

Try to keep a record of the people you've been around, a.k.a. Contact Tracing.
Social Distancing and Contact Tracing: We've Got You Covered.
Modjoul™ wearable is a device that supports companies in their social distancing and contact tracing efforts. Powered by Bluetooth® technology, the wearable device can store information for up to 3 individuals at a time, which means it's perfect for a 3-shift workday. 
Modjoul™ uploads the stored information via a wifi-equipped charging base. The data is collected and sorted, then reported to a dashboard. Reports are customizable and available at a glance on any mobile device. Management and supervisory personnel can use the information to adjust traffic and scheduling patterns to reduce the number of social distance violations.  The wearable also stores information on who has come into contact with whom for more than the prescribed amount of time. Modjoul™ is also available as an app for any mobile device. 
The wearable device is customizable within reasonable boundaries. The default distance is 6 feet, and the default limit for duration of contact is 30 seconds, but both parameters can be adjusted (within limits) to suit an organization's needs. 
Social Distancing:
The wearable unit detects when another unit is inside the predetermined proximity. If the 2 units are within proximity for longer than the recommended duration, haptic feedback warns the wearer(s) of the violation, and stores the incident as a contact. This is true only if 2 units belonging to the same organization are within range of each other. If 2 Modjoul™ wearers from different companies happen to encounter each other, perhaps at a grocery store, the units will not activate. 
Contact Tracing:
Each 'contact' is stored in the device until they are placed in the charging unit. Management and supervisors can easily determine if a contact between 2 people happens more frequently than others, which can support leadership with adjusting schedules and traffic patterns. Contact tracing becomes especially important if and when someone at the organization becomes infected with Covid-19. At a glance, leadership can see who has been in contact with the infected individual, and plan accordingly. Quarantine and isolation efforts can then be more effectively and efficiently directed.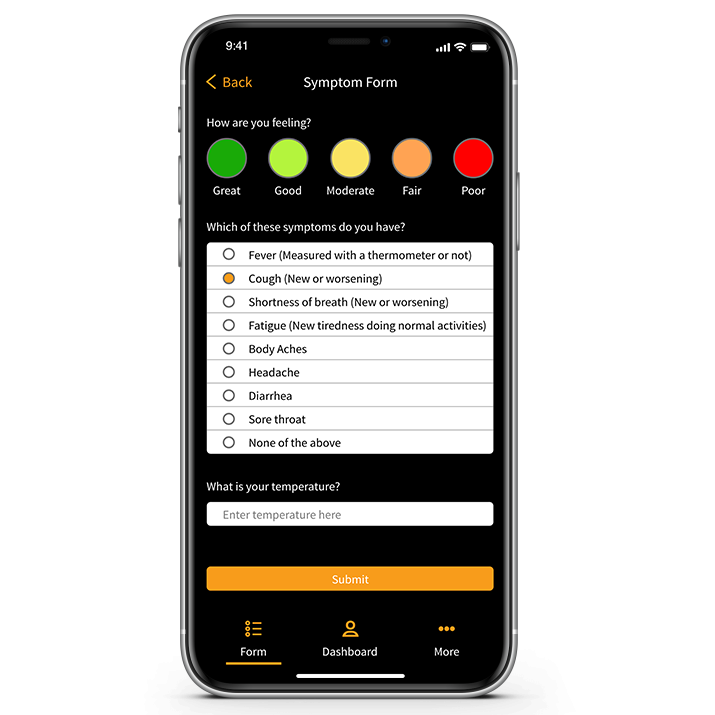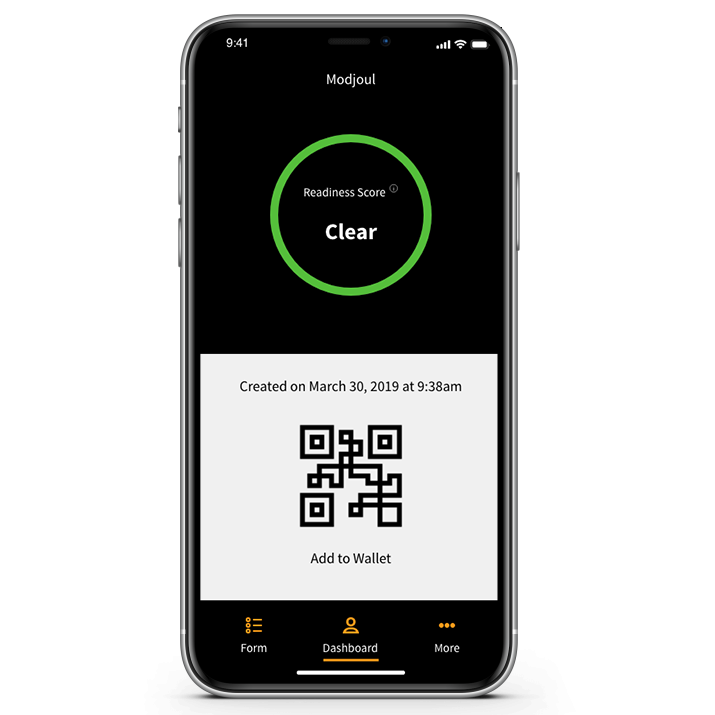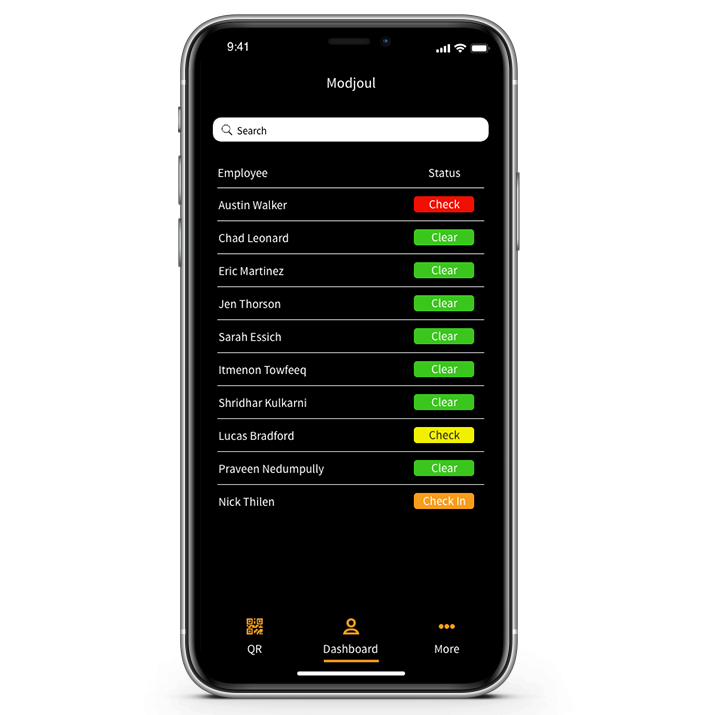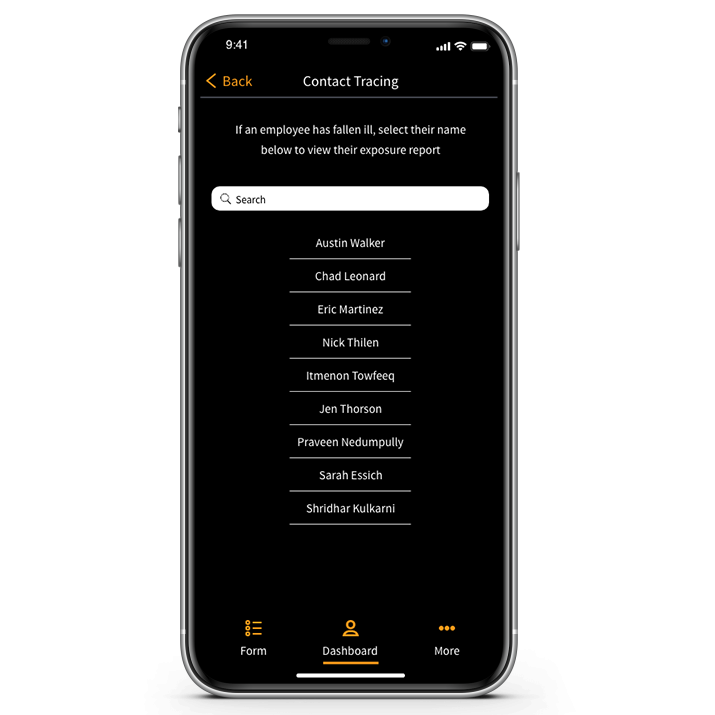 It's Not Just About Beating the Virus. It's Also About Peace Of Mind.
It has often been said that the best things come in small packages. We think Modjoul™ proves it. 
That said, we can't stop the virus for everyone. We cannot guarantee that everyone in your organization is safe from Covid-19, whether they wear the Modjoul™ device or not. A 100% guarantee against this virus – in fact, against any virus – is both a myth and a superstition. There's simply no such thing. 
What we can say is that social distancing and contact tracing will go a long way in supporting you in your efforts to maintain the health and well-being of your employees. And because the Modjoul™ device is designed to produce the kind of information that helps keep your employees safe and healthy, we're also providing a little peace of mind, which is a rare commodity in today's world. 
The Question: How Can We Now Support You?
Like you, we understand that a healthy work community is a happy work community. And like you, we are committed to the health and well-being of you and your employees. Please let us know how we can best serve you.